Head of laboratory
Technician and administration staff
---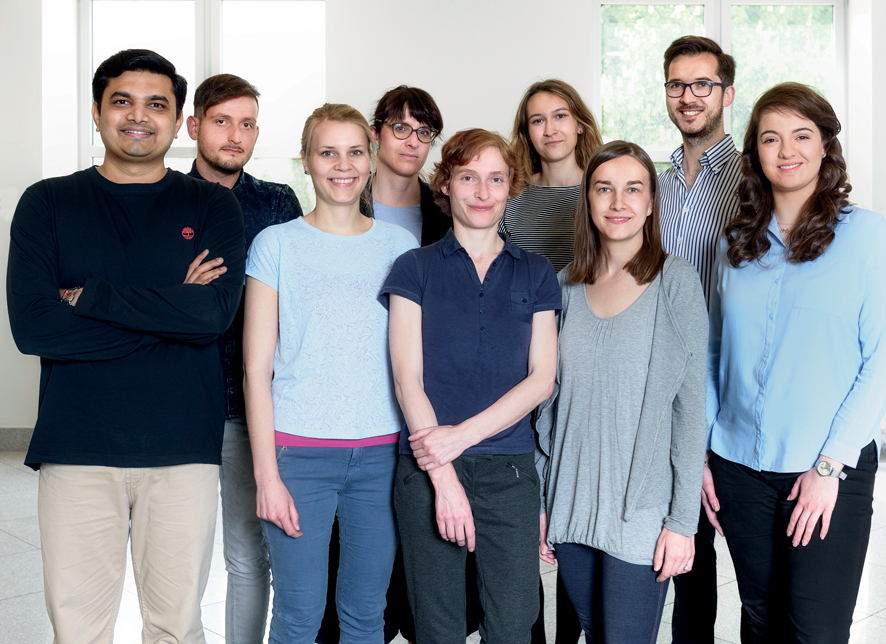 Research profile
Memory processes, including memory formation or extinction, are fundamental for brain function and they are affected in various psychiatric illnesses such as post-traumatic stress disorder or addiction. Currently, the molecular basis of memory processes is not sufficiently well understood to develop successful treatments for memory dysfunctions. Our team is studying molecular basis of memory processes. For our experiments we are using transgenic mice, which allows to combine molecular and morphological analyses with behavioral studies. In particular we are interested in modeling alcohol addiction and cognitive impairments in laboratory animals. Toward this end we apply both behavioral analysis of transgenic mice in the IntelliCage system as well as patch clamp electrophysiology, confocal, electron and correlative 3D microscopy to study molecular, functional and structural alterations in different brain regions.
The long-term aim to our research is to develop insights for treatments for memory dysfunctions in psychiatric illnesses.
Current research activities
The role of multi-innervates dendritic spines in memory formation. We use the tools of molecular biology and electron microscopy to study how and when multiinervated spines are formed. These are big dendritic spines innervated by at least 2 presynaptic buttons. We ask whether they contribute to memory formation and which molecular processes underlie their formation. The role of CaMKII and PSD95 proteins is tested.
The role of silent synapses in alcohol addiction. We use the tools of molecular biology and whole cell patch clamp electrophysiology to check the function of silent synapses which miss functional AMPA receptors. We ask whether they contribute to development of alcohol addiction using recently developed model in the IntelliCages. We also test the molecular processes involved in generation of silent synapses, in particular the role of Arc protein.
The role of dentate gyrus of the hippocampus in alcohol seeking. We use the tools of molecular biology and chemogenetic approach to test the role of dentate gyrus and its projections in the regulation of alcohol seeking.
More information: http://radwanskalab.eu/
Selected recent publications
Beroun A, Nalberczak-Skóra M, Harda Z, Piechota M, Ziółkowska M, Cały A, Pagano R and Radwanska K (2018) Generation of silent synapses in dentate gyrus correlates with development of alcohol addiction. Neuropsychopharmacology 0:1–11; http://doi.org/10.1038/s41386-018-0119-4
Harda Z, Dzik JM, Nalberczak-Skóra M, Meyza K, Łukasiewicz K, Łęski S, Radwanska K (2018) Autophosphorylation of αCaMKII affects social interactions in mice. Genes Brain Behav. 2018 Jun;17(5):e12457. doi: 10.1111/gbb.12457.
Stefaniuk M, Beroun A, Lebitko T, Markina O, Leski S, Meyza K, Grzywacz A, Samochowiec J, Samochowiec A, Radwańska K, Kaczmarek L (2017). Matrix Metalloproteinase-9 and Synaptic Plasticity in the Central Amygdala in Control of Alcohol-Seeking Behavior. Biol Psychiatry. 2017 Jan 5. pii: S0006-3223(17)30001-X. doi: 10.1016/j.biopsych.2016.12.026.
Havekes R, Park AJ, Tudor JC, Luczak VG, Hansen RT, Ferri SL, Bruinenberg VM, Poplawski SG, Day JP, Aton SJ, Radwańska K, Meerlo P, Houslay MD, Baillie GS, Abel T ( 2016) Sleep deprivation causes memory deficits by negatively impacting neuronal connectivity in hippocampal area CA1. Elife, doi: 10.7554/eLife.13424.
Mijakowska Z, Łukasiewicz K, Ziółkowska M, Lipiński M, Trąbczyńska A, Matuszek Ż, Łęski S, Radwanska K (2015). Autophosphorylation of alpha isoform of calcium/calmodulin-dependent kinase II regulates alcohol addiction-related behaviors. Addict Biol, doi: 10.1111/adb.12327.