Head of laboratory
Technician and administration staff
---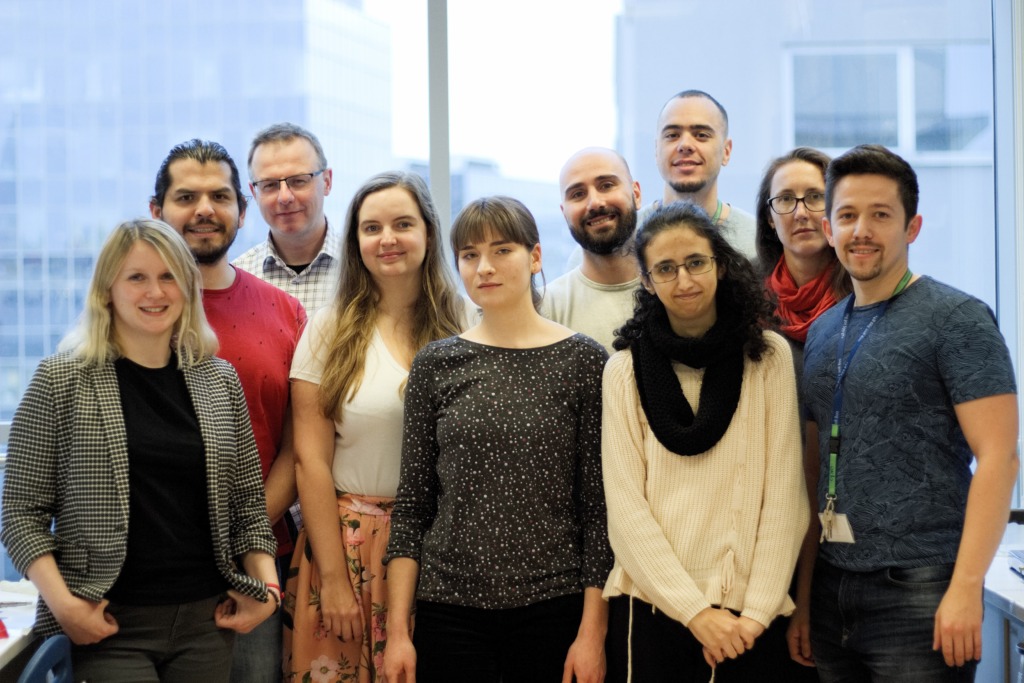 Research profile
Our research concentrates on unraveling of conventional (kinase-dependent) and non-canonical (dependent on ubiquitin-proteasome system) signaling pathways regulating metabolism of adipocytes, hepatocytes, enterocytes and pancreatic beta cells. Furthermore, we investigate how these signaling events contribute to the development of metabolic diseases. To study the complex signaling network regulating basic metabolic processes we combine cell biology, biochemical and omics approaches with mouse genetics. Our mouse genetic experiments concentrate on diacylglycerol-activated Protein kinase D (PKDs) family members, which are central regulators of adipose tissue, liver, digestive system and pancreatic function and are implicated in development of obesity as well as T2D. Using high-throughput screening approaches, we aim at identification of novel canonical and unconventional components of signaling machinery regulating adipocytes function and their contribution to the development of multiple metabolic diseases including obesity, type 2 diabetes (T2D) as well as cancer-associated cachexia (CAC). Finally, we are employing our findings for generation of novel precision medicine therapies to restore metabolic fitness of the organism affected by the major metabolic diseases.
For further information visit: grzegorzsumaralab.nencki.edu.pl
Current research activities
Identification of conventional and non-canonical signaling modules (E3 ligases and DUBs) in the regulation of lipolysis
Decoding signaling events inducing lipolysis in adipocytes during metabolic diseases
Unraveling the impact of PKD-dependent signaling on lipid absorption, adipose tissue function and development of metabolic diseases
Identification of mechanisms of organ cross-talk in regulation of pancreatic beta cell function
Selected publications
Karwen T, Kolczynska-Matysiak K, Gross C, Löffler MC, Friedrich M, Loza-Valdes A, Schmitz W, Wit M, Dziaczkowski F, Belykh A, Trujillo-Viera J, El-Merahbi R, Deppermann C, Nawaz S, Hastoy B, Demczuk A, Erk M, Wieckowski MR, Rorsman P, Heinze KG, Stegner D, Nieswandt B, Sumara G. Platelet-derived lipids promote insulin secretion of pancreatic β cells. EMBO Mol Med. 2023 Jul 25:e16858.
Loza-Valdes A, El-Merahbi R, Kassouf T, Demczuk A, Reuter S, Viera JT, Karwen T, Noh M, Löffler MC, Romero-Becerra R, Torres JL, Marcos M, Sabio G, Wojda U, Sumara G. Targeting ERK3/MK5 complex for treatment of obesity and diabetes. Biochem Biophys Res Commun. 2022 Jul 5; 612:119-125.
Wit M, Trujillo-Viera J, Strohmeyer A, Klingenspor M, Hankir M, Sumara G. When fat meets the gut—focus on intestinal lipid handling in metabolic health and disease. EMBO Mol Med. 2022 May 9;14(5):e14742.
Loza-Valdes A, Mayer AE, Kassouf T, Trujillo-Viera J, Schmitz W, Dziaczkowski F, Leitges M, Schlosser A, Sumara G. A phosphoproteomic approach reveals that PKD3 controls PKA-mediated glucose and tyrosine metabolism. Life Sci Alliance. 2021 Jun 18;4(8):e202000863.
Trujillo-Viera J, El-Merahbi R, Schmidt V, Karwen T, Loza-Valdes A, Strohmeyer A, Reuter S, Noh M, Wit M, Hawro I, Mocek S, Fey C, Mayer AE, Löffler MC, Wilhelmi I, Metzger M, Ishikawa E, Yamasaki S, Rau M, Geier A, Hankir M, Seyfried F, Klingenspor M, Sumara G. Protein Kinase D2 drives chylomicron-mediated lipid transport in the intestine and promotes obesity. EMBO Mol Med. 2021 May 7;13(5):e13548.
Kassouf T, Sumara G. Impact of Conventional and Atypical MAPKs on the Development of Metabolic Diseases. Biomolecules. 2020 Aug 29;10(9):E1256. doi: 10.3390/biom10091256.
Kolczynska K, Loza-Valdes A, Hawro I, Sumara G. Diacylglycerol-evoked activation of PKC and PKD isoforms in regulation of glucose and lipid metabolism: a review. Lipids Health Dis. 2020 May 28;19(1):113. doi: 10.1186/s12944-020-01286-8.
El-Merahbi R, Viera JT, Valdes AL, Kolczynska K, Reuter S, Löffler MC, Erk M, Ade CP, Karwen T, Mayer AE, Eilers M, Sumara G. The adrenergic-induced ERK3 pathway drives lipolysis and suppresses energy dissipation. Genes Dev. 2020 Apr 1;34(7-8):495-510.
Mayer AE, Löffler MC, Loza Valdés AE, Schmitz W, El-Merahbi R, Viera JT, Erk M, Zhang T, Braun U, Heikenwalder M, Leitges M, Schulze A, Sumara G. The kinase PKD3 provides negative feedback on cholesterol and triglyceride synthesis by suppressing insulin signaling. Sci Signal. 2019 Aug 6;12(593):eaav9150.
Löffler MC, Mayer AE, Trujillo Viera J, Loza Valdes A, El-Merahbi R, Ade CP, Karwen T, Schmitz W, Slotta A, Erk M, Janaki-Raman S, Matesanz N, Torres J, Marcos M, Sabio G, Eilers M, Schulze A and Sumara G.  Protein kinase D1 deletion in adipocytes enhances energy dissipation and protects against adiposity. EMBO J. 2018 Nov 15;37(22):e99182.
El-Merahbi R, Löffler M, Mayer A, Sumara G. The roles of peripheral serotonin in metabolic homeostasis. FEBS Lett. 2015 Jul 8;589(15):1728-34.
Sumara G, Sumara O, Kim J, Karsenty G. Gut-derived serotonin is a multifunctional determinant to fasting adaptation. Cell Metab. 2012 Nov 7;16(5):588-600.
Oury F*, Sumara G*, Sumara O, Ferron M, Chang H, Smith CE, Hermo L, Suarez S, Roth BL, Ducy P, Karsenty G. Endocrine Regulation of Male Fertility by the Skeleton. Cell. 2011 Mar 4;144(5):796-809.
*equal contribution
Sumara G, Formentini I, Collins S, Sumara I, Windak R, Bodenmiller B, Ramracheya R, Caille D, Jiang H, Platt KA, Meda P, Aebersold R, Rorsman P, Ricci R. Regulation of PKD by the MAPK p38delta in insulin secretion and glucose homeostasis. Cell. 2009 Jan 23;136(2):235-48.
Ricci R*, Sumara G*, Sumara I, Rozenberg I, Kurrer M, Akhmedov A, Hersberger M, Eriksson U, Eberli FR, Becher B, Borén J, Chen M, Cybulsky MI, Moore KJ, Freeman MW, Wagner EF, Matter CM and Lüscher TF. Requirement of JNK2 for scavenger receptor A-mediated foam cell formation in atherogenesis. Science. 2004 Nov 26;306(5701):1558-61.
*equal contribution.