Head of laboratory
Technician and administration staff
---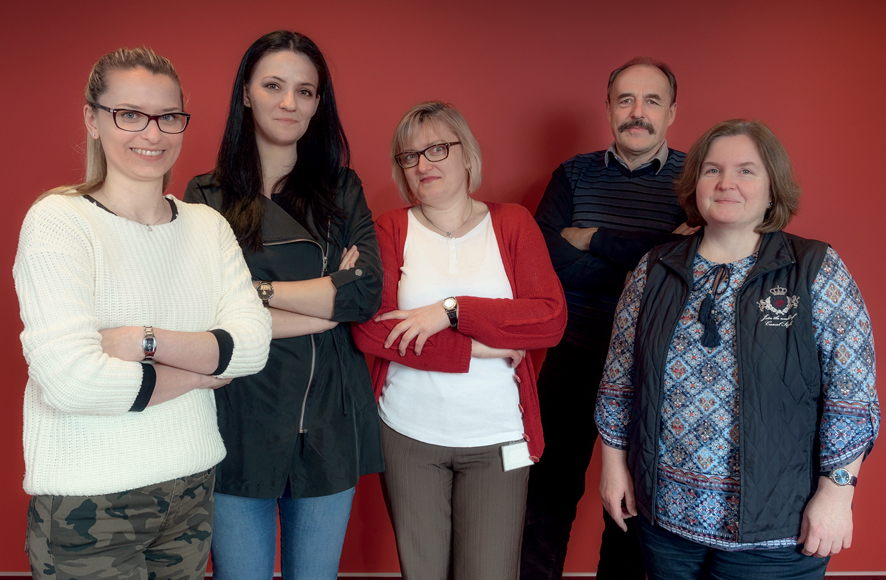 Research profile
The laboratory is focused on cellular calcium handling and bioenergetics of mammalian cells under normal and pathological conditions. In particular, we are interested in:
effects of mutation in the dystrophin gene on calcium signaling, intracellular calcium homeostasis and energy metabolism in muscle and non-muscle cells derived from mdx mice (animal model of Duchenne Muscular Dystrophy)
response of human endothelial cells to various stress-inducing stimuli such as: inflammation, insulin resistance, genotoxicity etc. with special emphasis on mitochondrial metabolism and function
characterization of cellular bioenergetics in various cells with mutations within mitochondrial or nuclear DNA, affecting mitochondrial and extramitochondrial metabolic pathways
Current research activities
biochemical and molecular mechanisms responsible for impaired calcium metabolism in undifferentiated myoblasts derived from mdx mice. The role of P2Y and P2X receptors in abnormal calcium homeostasis in dystrophic muscle cells is the current topic of our investigation. In our study we are using both immortalized cell lines (myoblasts and myotubes) and primary myoblasts derived from mdx mice.
study of TNFα and insulin resistance in human vascular endothelial cells. The role of  nicotinamide N-methyltransferase and mitochondrial mechanisms in a cellular response to these stimuli. Cellular bioenergetics, oxidative stress, nitric oxide synthesis and mitochondrial biogenesis are of particular interest.
study on calcium homeostasis and the role of annexins in endothelial cells with induced insulin resistance.
Selected publications
Young CNJ, Chira N, Róg J, Al-Khalidi R, Benard M, Galas L, Chan P, Vaudry D, Zabłocki K, Górecki DC. (2017) Sustained activation of P2X7 induces MMP-2-evoked cleavage and functional purinoceptor inhibition J. Mol. Cell Biol. https://doi.org/10.1093/jmcb/mjx030
Dymkowska D, Kawalec M, Wyszomirski T, Zabłocki K. (2017) Mild palmitate treatment increases mitochondrial mass but does not affect EA.hy926 endothelial cells viability. Arch. Biochem. Biophys. doi: 10.1016/j.abb.2017.10.006.
Al-Khalidi R, Panicucci C, Cox P, Chira N, Róg J, Young CNJ, McGeehan RE, Ambati K, Ambati J, Zabłocki K, Gazzerro E, Arkle S, Bruno C, Górecki DC. (2018) Zidovudine ameliorates pathology in the mouse model of Duchenne muscular dystrophy via P2RX7 purinoceptor antagonism. Acta N europathol. Commun. doi: 10.1186/s40478-018-0530-4.
Dymkowska D, Drabarek B, Michalik A, Nowak N, Zabłocki K. (2019)  TNFα stimulates NO release in EA.hy926 cells by activating the CaMKKβ-AMPK-eNOS pathway.  (2019)   Int. J Biochem. Cell Biol. 106: 57-67. doi: 10.1016/j.biocel.2018.11.010.
Róg J, Oksiejuk A, Gosselin MRF, Brutkowski W, Dymkowska D, Nowak N, Robson     S, Górecki DC, Zabłocki K. (2019) Dystrophic mdx mouse myoblasts exhibit elevated ATP/UTP-evoked metabotropic purinergic responses and alterations in calcium signalling. Biochim Biophys Acta Mol Basis Dis. 2019 Jun 1;1865(6):1138-1151. doi: 10.1016/j.bbadis.2019.01.002. Epub 2019 Jan 24. PMID: 30684640 Free article.
Young CNJ, Gosselin MRF, Rumney R, Oksiejuk A, Chira N, Bozycki L, Matryba P, Łukasiewicz K, Kao AP, Dunlop J, Robson SC, Zabłocki K, Górecki DC. (2020) Total Absence of Dystrophin Expression Exacerbates Ectopic Myofiber Calcification     and Fibrosis and Alters Macrophage Infiltration Patterns. Am. J. Pathol. 190.:190-205. doi: 10.1016/j.ajpath.2019.09.021.
Veschi EA, Bolean M, Strzelecka-Kiliszek A, Bandorowicz-Pikula J, Pikula S, Granjon    T, Mebarek S, Magne D, Ramos AP, Rosato N, Millán JL, Buchet R, Bottini M, Ciancaglini P. (2020) Localization of Annexin A6 in Matrix Vesicles During Physiological Mineralization.  Int. J. Mol. Sci..21:1367. doi: 10.3390/ijms21041367.
Dymkowska D, Wrzosek A, Zabłocki K. (2021) Atorvastatin and pravastatin stimulate nitric oxide and reactive oxygen species generation, affect mitochondrial network architecture and elevate nicotinamide N-methyltransferase level in endothelial cells. J. Appl. Toxicol. 41:1076-1088. doi: 10.1002/jat.4094.
Krupska O, Kowalczyk T, Beręsewicz-Haller M, Samczuk P, Pietrowska K, Zabłocki K, Kretowski A, Ciborowski M, Zabłocka B. (2021) Hippocampal Sector-Specific Metabolic Profiles Reflect Endogenous Strategy for Ischemia-Reperfusion Insult Resistance.Mol Neurobiol. 58:1621-1633. doi: 10.1007/s12035-020-02208-6.
Beręsewicz-Haller M, Krupska O, Bochomulski P, Dudzik D, Chęcińska A, Hilgier W, Barbas C, Zablocki K, Zablocka B. (2021) Mitochondrial Metabolism behind Region-Specific Resistance to Ischemia-Reperfusion Injury in Gerbil Hippocampus. Role of PKCβII and Phosphate-Activated Glutaminase. Int. J. Mol. Sci. 22:8504. doi: 10.3390/ijms22168504.